The Peabody Ballroom Experience presents: FIRE!!
Saturday, May 21, 2022
The George Peabody Library
17 E Mt. Vernon, Baltimore, Maryland 21202
This invite-only ball brings to life a selection of books and manuscripts related to Black literature, arts, and history. The competition takes its name from the 1926 Black literary publication FIRE!! [pdf], which expressed Black queer experience during the Harlem Renaissance, using literature and the arts as vehicles of enlightenment.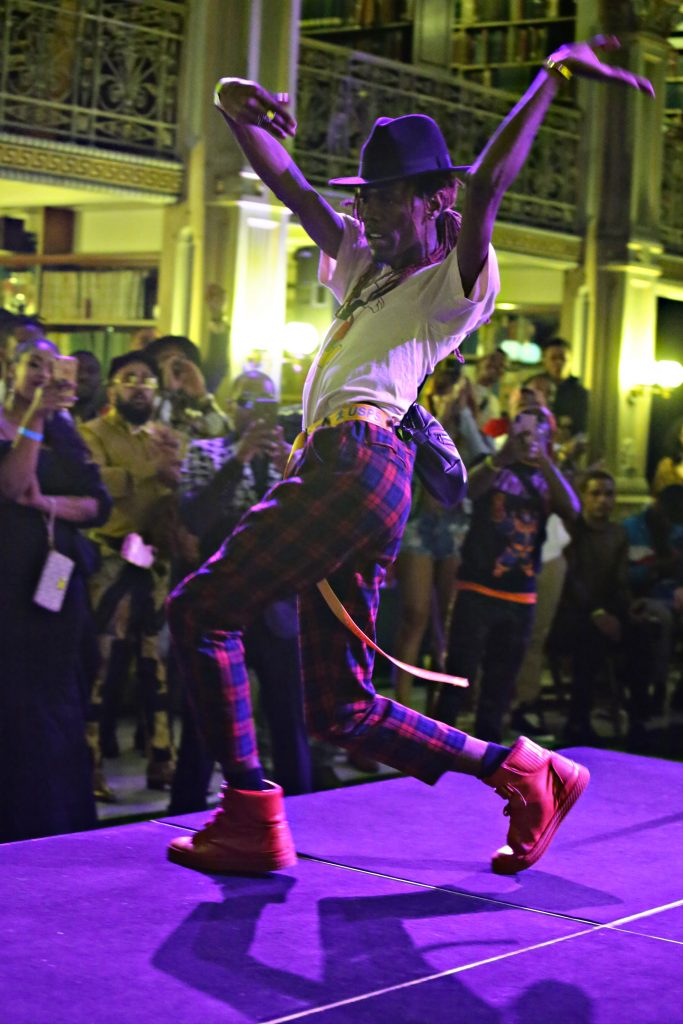 Categories
Sex Siren – The Messenger ($1000)

In the 1830s, the late great American abolitionist David Walker, both an activist and clothing merchant in Boston, sewed copies of his revolutionary pamphlet, "Walker's Appeal," into sailor's clothing. They distributed them covertly to African Americans through the south. Taking as your inspiration this revolutionary act, I am looking for you ladies and gentlemen to find a clever and sexy way of hiding and then reveling a message of social awareness that's relevant today!!!
OTA Best Dressed – Grammar of Ornament ($1000)
Owen Jones' Grammar of Ornament, published in 1856, was created to help young designers make use of the design principles of older civilizations like ancient Egypt, Greece, and the Renaissance. The Peabody Library architects drew on the book's patterns – including the lotus-like Egyptian ornaments – to design Baltimore's gorgeous "cathedral of books." You should be totally done from head to toe in prints, prints, and more prints from Grammar of Ornament in a look that demands our attention. Combine different prints from the book to create your look.
Realness ($1000)
As we all know, when it comes to the Harlem Renaissance you had great writers Zora Neale Hurston, Aaron Douglas, John P. Davis, Richard Bruce Nugent, Gwendolyn Bennett, Lewis Grandison Alexander, Countee Cullen, and Langston Hughes just to name a few. We all know them for their great contribution to the 1926 publication FIRE!!. What is also known are the difficulties they faced by only publishing one issue due to their headquarters being burnt down.
EXECUTIVES – As a lawyer, we are looking for you to draft contracts for the Ladies and Gentlemen that will be featured in a new reestablished publication of FIRE!!. Impress us with your contracts in the spirit of the original "New Negro Movement"!!
THUGS – In one of the articles for our new issue of FIRE!! we will be featuring Ellsworth (Bumpy) Johnson, the notorious black mobster AKA Godfather of Harlem!!  We want the look and the charisma he was so well known for.
FEM QUEEN – African-American women were vital and integral parts of the Harlem Renaissance!!  We at FIRE!! are looking for the next star, be it a writer, singer, politician, etc. Bring it however you like but don't forget TO BE REAL!!
TRANS MEN – Since we are reestablishing FIRE!! in a new location, we are looking for much needed security!!  We are looking for that one great candidate with a no-nonsense attitude to take the lead. So come dressed the part for the interview.
SCHOOL BOY – With the new edition of our publication we are looking for the ULTIMATE paper boy to make the anticipated deliveries. Be in gear and ready to go!!
BqnDRAG – Our feature article will be about the Pansy Craze!! As we already know, balls are an offspring of the drag AKA "pansy" balls of the 1930s. Our focus will be based off the Baltimore scene with great leads from the Afro-American newspaper!! Many folks would line up outside of supposedly "secret" locations to see all the ladies in their GLITZ and GLORY.  So in honor of the craze, We at FIRE!! are looking for Butch Queen in drag in full GLAMOROUS formal attire!!!
OTA Face – "Lady Sings the Blues" ($1000)
Today we pay homage to one of the greatest jazz singers of her time: Baltimore native Billie Holiday, whose life is archived by Johns Hopkins University and its Billie Holiday Center for the Liberation Arts. This woman had timeless and remarkable beauty, always stunning the crowd, so we want you to do just that: STUN THE CROWD.
Ladies – Bring it in a royal blue SEQUINS gown and an OVERSIZED Flower head piece.
Gentlemen – Bring it in a WELL TAILORED floral print suit with a royal blue Accessory or Prop.
OTA Performance – "Breaking Bold" ($1000)
Soft N Cunt vs. Dramatic
In the 1990s, the Black gay author Samuel Delany wrote Times Square Red, Times Square Blue to celebrate the "neon visibility" of Times Squares' gay bars, sex shops, and porn theaters. Pay homage to this forgotten past with Neon Colors that are BRIGHT, BOLD, and appear to glow with INTENSITY. Serving in neon colors from head-to-toe ELETRICTRIFYING us with a VIVID yet eye catching Performance.  
OTA Runway – "The Afrofuturist" ($1000)
Octavia Butler is known as a Sci-Fi genius and Mother of Afrofuturist. The Afrofuturism movement is the reimagining of a future filled with arts, science, and technology seen through a black lens and incorporating black history. Bring us the look of an African Futuristic Warrior. Small vs. Tall vs. Big vs. Female Figure vs. All American vs. Legends.
---
For more information please contact Peabody Ballroom Experience advisory group members Legendary Marco West 808-398-7100 or (FB) Marco Gray; Icon Sebastian Escada 44-743-5305 or (FB) Sebastian Latta; Dr. Joseph Plaster at jplaster@jhu.edu or (FB) Joey Plaster; Icon Enrique St. Laurent (FB) Eric Jenkins.
Rules for the Night
There will be no glitter, spray paint, or glues allowed inside the venue. Security will thoroughly check all bags. Anyone caught using these materials inside the event space will be disqualified and removed from the ball.
The venue will have in-house security. Any person or persons deemed to be disruptive will be removed from the building. Fighting will not be tolerated and any violent threats or incidents will result in removal and prosecution to the fullest extent of the law.
No smoking allowed.
There will be a designated dressing room; no one is permitted to get dressed in the bathroom.