The Peabody Ballroom Experience presents: FIRE!!
PLEASE NOTE: In response to the latest recommendations regarding the COVID-19 pandemic, we must postpone the April 2020 Peabody ball. We plan to identify a rescheduled date as soon as possible. 
The George Peabody Library
17 E Mt. Vernon, Baltimore, Maryland 21202
Music by Vjuan Allure St. Laurent
Masters Of Ceremony Trebra Blahnik & Boom Boom Balenciaga
Tonight, we bring to life a selection of books and manuscripts–focusing on African American literature, arts, and history–from the Johns Hopkins University libraries and archives. The ball takes its name from the 1926 black literary publication Fire!!. The magazine was conceived to express the black experience during the Harlem Renaissance, using literature and the arts as vehicles of enlightenment. We build on this tradition in the George Peabody Library — Baltimore's "Cathedral of Books" — one of the most beautiful and historic libraries in the world.
This project is funded by the Andrew W. Mellon Foundation, under the auspices of the Johns Hopkins Sheridan Libraries.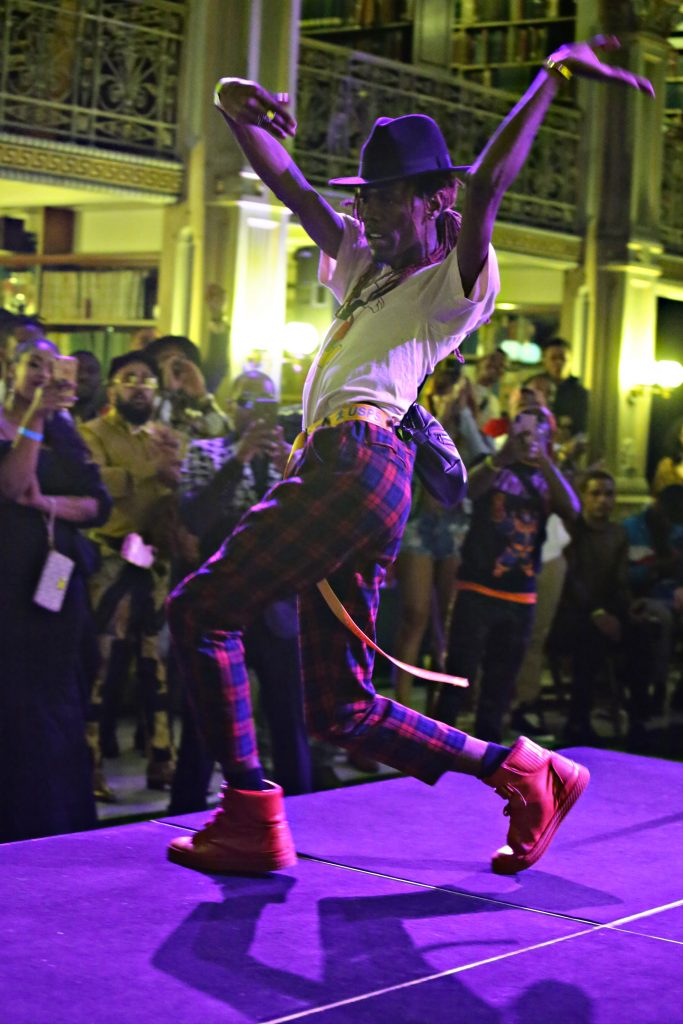 CATEGORIES
---
Virgin Categories – "Fire"
Virgin Performance ($100.00, 1 trophy)
Give us a flaming hot performance in the colors of fire (red, yellow, orange).
Virgin Runway ($100.00, 1 trophy)
Set the runway on fire leaving a trail of smoke. In colors of smoke (black, white, shades of grey).
Bizarre – "The Messenger" ($400.00, 1 trophy)
In the 1830s, David Walker, an activist and clothing seller in Boston, sewed copies of his revolutionary pamphlet, "Walker's Appeal," into the clothing of sailors. They distributed them covertly to African Americans throughout the South. Taking as your inspiration this revolutionary act, create an eye-catching avant-garde ensemble of BIZARRE fit for a Peabody display. Use any type of materials that conveys a written message. Bring your creation to life!!!! (Newspaper, magazines, pamphlets, cereal boxes, milk carts, etc.)
Best Dressed – "Architectural Digest" ($500.00, 2 trophies, 1 cash)
The Peabody's illustrated Grammar of Ornament, published in 1856, was created to help young designers make use of the underlying design principles of older civilizations – the grammar – in their own work. The Peabody Library architects drew on the book's patterns from ancient Egypt, Greece, and the Renaissance to build a gorgeous "cathedral of books." You should be totally done from head to toe in prints, prints, and more prints in a look which demands our attention. Use different types of architectural prints and cultural prints together. One piece of clothing must be a solid color. No black or white as a solid color.
BQ Realness with a Twist – "Unconditional Joy" ($400.00, 1 trophy)
The Johns Hopkins University Langston Hughes archival collection includes original sheet music for the 1950 song "Joy." Text by the poet Langston Hughes reads: "I went to look for Joy / Slim, dancing Joy." Drawing your inspiration from Hughes, you should be dressed as a professional jazz performer in fringe during the Harlem Renaissance. Prepare to vogue to each and every beat. As the season changes so will the beat. Make sure to catch it!!!
Sex Siren – "Shaka Zulu" ($200.00, 2 trophies, 1 cash)
Shaka Zulu was one of the most influential monarchs of the Zulu kingdom. The Zulu warriors were exceptionally skilled in combat, but the great man did not always resort to war! As a skilled diplomat, he was often able to negotiate with his adversaries. So what we are looking for tonight is a parade of sexy Zulu warriors that will not only entice but help prevail Shaka to another victory without shedding blood! Will you be the one that saves a nation!!!
OTA Face – "Lady Sings The Blues" ($500.00, 2 trophies)
Sponsored by the Johns Hopkins Billie Holiday Project for Liberation Arts
Tonight we pay homage to one of the greatest jazz singers of her time: Baltimore native Billie Holiday, whose life is archived by Johns Hopkins University and its Billie Holiday Project for Liberation Arts. This woman had timeless and remarkable beauty, always stunning the crowd, so tonight we want you to do just that: STUN THE CROWD.
Ladies: Bring it in a royal blue SEQUINS gown and an OVERSIZED Flower headpiece.
Gentlemen: Bring it in a WELL TAILORED floral print suit with a royal blue Accessory or Prop.
Labels – "The Mix Up" ($200.00, 1 trophy)
In ballroom, labels are all about being current and finding that one piece that no other person has. On this night we want pieces from any year or any season, but the twist is your secret weapon must come from an African American Ballroom Designer.
BQ Old Way – "Fugitive Slave" ($100.00, 1 trophy)
William Wells Brown was an abolitionist and writer in the 1800s, whose first-edition books are included in the Hopkins libraries. He identified as a "Fugitive Slave" and helped free slaves into Canada. Bring us a show stopping performance that screams "I'm breaking free" in all black with the Canadian flag. (The flag size doesn't matter.)
Female Figure Performance – "Going Bananas" ($200.00, 1 trophy)
Josephine Baker was an American born French entertainer and civil rights activist that was phenomenal in Europe. Johns Hopkins archives many of her books, promotional flyers and vintage black-and-white photos. Tonight, bring us an INSPIRED Josephine look. Remember she has more than just the banana girl look. BE CREATIVE !!!!!
OTA Runway – "The Afrofuturist" ($800.00, 1 trophy, One Winner — No taking it as a house)
Octavia Butler is known as a Sci-Fi genius And Mother of Afrofuturist. The Afrofuturism movement is the reimagining of a future filled with arts, science, and technology seen through a black lens and incorporating black history. Bring us the look of an African Futuristic Warrior. Small vs. Tall vs. Big vs. Female Figure vs. All American vs. Legends.
BQVF – "Breaking Bold" ($500.00, 2 trophies, 1 cash)
Soft N Cunt vs. Dramatic
Neon Colors are BRIGHT, BOLD, and appear to glow with INTENSITY. Serving in neon colors from head to toe ELETRICTRIFYING us with a VIVID yet eye catching Performance. (NO BLACK) (NO SOCKS) (Shoes are included)
Thug Realness – "Ellsworth (Bumpy) Johnson" ($250.00, 1 trophy)
Unquestionably the most notorious black mob associate of all times is Ellsworth (Bumpy) Johnson, nicknamed "Godfather of Harlem." He made his name in the 1930's "New York numbers war" aka the Lottery before it became legal! He was both loved and feared; we are asking that for a Bumpy inspired look. PLEASE do your research and have a photo that backs your look up! NO PHONES!!!
BQnDRAGS Realness – "Pansy Craze" ($400.00, 1 trophy)
As we already know balls are an offspring of the Drag aka "Pansy" balls. What you may not know is that the city of Baltimore had its very own "Pansy Craze" in the 1930s. According to articles in the Baltimore Afro-American newspaper, part of the Johns Hopkins library collection, many folks would line up outside of supposedly "secret" locations to see all the ladies in their Glitz and Glory. So in honor of the Craze, we are looking for Butch Queen in drags in full GLAMOROUS formal attire!! Please come done and be the envy of the ICONS of the 30's!!
Executive Realness – "Fire!!" ($500.00, 1 trophy)
As we all know, when it comes to the Harlem Renaissance you had great writers Zora Neale Hurston, Aaron Douglas, John P. Davis, Richard Bruce Nugent, Gwendolyn Bennett, Lewis Grandison Alexander, Countee Cullen, and Langston Hughes just to name a few. We all know them for their great contribution to Fire!! which was an African American literary magazine published in New York City in 1926. What is also known are the difficulties they faced by only publishing one issue due to their headquarters being burnt down. What we are looking for is a business or marketing plan that you can create, that would help reestablish FIRE!! to its glory. Impress us with your stellar Marketing plan that would also be part of "New Negro Movement" as many of them have done!!
Fem Queen Realness – "Paris Is Burning" ($200.00, 1 trophy)
Let's take it back to what bought ballroom to global recognition, PARIS IS BURNING, which is also available through the Johns Hopkins libraries!!! We want the ladies to have fun with this category tonight. So what we are looking for is a homage to the realness girls in the film. Brenda and Venus Xtravaganza, Candy Labeija, Octavia St. Laurent, Danielle (Princess) Revlon, and Tenille Dupree to name a few. Be it bangy, classy, or business just make sure it's TO BE REAL!!
School Boy Realness – "Brown vs. Board of Education" ($200.00, 1 trophy)
In 1954 the Supreme Court ruled that we would have no racial segregation in schools, and that schools should be equal in quality. The Hopkins libraries hold countless books about this case. It's simple: you're a 1950's Newspaper Boy delivering the news about the Supreme Court's decision. (Don't forget your 1950s Paperboy hat and Large Bag.)
Transman vs. Butch Realness – "Black Panther Movement" ($100.00, 2 Trophies, 1 cash)
The Black Panthers, also known as the Black Panther Party, was a political organization founded in 1966 by Huey Newton and Bobby Seale to challenge police brutality against the African American community. Dressed in black berets and black leather jackets, the Black Panthers organized armed citizen patrols of Oakland and other U.S. cities. At its peak in 1968, the Black Panther Party had roughly 2,000 members. Johns Hopkins archives broadsides and photographs created by the Black Panther Party in Baltimore, Philadelphia, and Sacramento, among other cities. Bring it as a 2020 Black Panther and please don't forget your beret.
---
For more information please contact Peabody Ballroom Experience advisory group members Legendary Marco West 808-398-7100 or (FB) Marco Gray; Icon Sebastian Escada 44-743-5305 or (FB) Sebastian Latta; Dr. Joseph Plaster at jplaster@jhu.edu or (FB) Joey Plaster; Icon Enrique St. Laurent (FB) Eric Jenkins.
Rules for the Night
There will be no glitter, spray paint, or glues allowed inside the venue. Security will thoroughly check all bags. Anyone caught using these materials inside the event space will be disqualified and removed from the ball.
The venue will have in-house security. Any person or persons deemed to be disruptive will be removed from the building. Fighting will not be tolerated and any violent threats or incidents will result in removal and prosecution to the fullest extent of the law.
No smoking allowed.
There will be a designated dressing room; no one is permitted to get dressed in the bathroom.